Believe it or not, it looks like farming is taking an "upward turn" – and hopefully in more ways than one!!   As of this writing, crop and livestock prices were inching up.   There appears to be some good negotiations on new trade deals that will favor more Farms and Ranches.  Weather is not seeming to have as big an impact as of late. (Though that can change quickly.)  Despite the COVID, there is some optimism in the Ag world!
Throughout the history of farming, crops need several things to grow, and it is seldom ever truly predictable!  One of the newest factors that is becoming more and more difficult to have in abundance is one of the most important elements: space, land and fertile soil. 
Present day farming already takes up a huge amount of land for crops to grow.  We have more people to feed every day and therefore need more food everyday! Plus, certain lands have to "rest" to re-build their natural nutrients.  On top of that , while the population of our world keeps growing ,more and more land is being re-purposed for other uses and some even in the name of LOVE.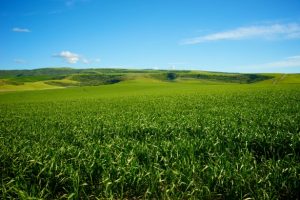 So, unfortunately, our could be slimming.  It is estimated that within the next thirty years, the human population will surpass 9 billion! Not only will they need more living space, but they will also require more food, which takes up even more area to be grown. Here is the latest PIVOT potential: vertical farming!
Vertical farming is the process of stacking garden boxes in a controlled environment, rather than spreading crops out in fields. With vertical farming, you don't have to rely as much on nature to provide everything needed to grow crops or gardens. The grower can control the amount of light and heat that the crops receive. This process requires minimal soil and uses up to 95% less water than conventional farming.  And there are NO bugs, meaning you won't have to apply pesticides.  You can have more control over more variables of your farm. 
Not only that, but vertical farms can yield four to six times MORE per area than conventional farming methods. Vertical farming can definitely "stack up" as a viable solution to our world's growing needs. It's a win-win-win: more food, more control, and less space! In more ways than we can imagine then, things are certainly "looking up" for the farming industry! 
At Team Perka, we understand that your crops are especially important to you and our world. That's why we developed a hybrid building- part wood, part steel- in order to provide you with the highest quality structures for any and all of your projects.
And we are confident that you'll love your Perka building as much as we do! Not only are they affordable and functional, they're also extremely reliable and safe! Our unique hybrid buildings are strong and secure, perfect for housing anything you need. These one-of-a-kind models are customizable, re-designable, AND up to safety code!
We also guarantee that our buildings will meet any safety requirement around, so you can rest assured that your valuable equipment and animals are well-protected from the environment: dangerous winds, damaging rains or snow, and the powerful sun.
Your building can have a full or partial roof, along with custom doors to ensure that you get what works best for you. Whether you want open or enclosed walls, doors that fold up or roll up or slide or open regularly, one door or two or more- It's all up to you! We work with you, so that your buildings have the highest quality, guaranteed! Besides, if something doesn't work properly, or you change your mind, Perka's building frames have a 50-year warranty.
Speaking of changing your mind, Perka buildings are EXTREMELY re-usable! They can be repurposed into almost anything you need! Our buildings have been turned into places for livestock (horses, pigs, cattle, poultry, sheep, goats, ducks, llamas/alpacas, etc), crop storage, equipment repair shops, milking barns, hay storage, even man caves and she sheds, OR just additional living space! These structures are incredibly versatile; they work well for the whole family! (Even the non-human members of the family!)
All models can be fit to size- height, width, length, steepness of the roof, or anything else! We want to get YOU the perfect size for your building.
Most of our buildings are completed by a vaulted ceiling. This adds an extra level of storage, which can be used for holding more goods, more equipment, and more food!
You don't have to worry when faced with gusting gales, snowstorms and sleet, rattling rains, or anything else that quivers, quakes, and shakes! Perka buildings are strong enough to weather the storms of life. They are also affordable, to give you the best space for your dollar, so you can invest in other things around the farm. Our buildings and our team are flexible; we'll work with any changes, fixes, or add-ons, should you so desire. If extra space is what you are looking for, you can consider it done! We make sure it's easy to get the information you need, AND easy to assemble your building! We hope to ensure that your building is effortlessly and effectively insulated and simple to change. Whatever you need, we'll get it done quickly, so that you can enjoy the return on your investment sooner. Plus, they are extremely resilient: no small storms can blow them down! They are built to withstand even the toughest of circumstances. However, if they don't quite hold up, they are simple to repair, remodel, or reuse. With Perka on your side, there's no way you can lose!
Perka is proud to be the S.A.F.E.R. solution for you, your family, and your farm. Contact us to receive more information and direction. We want to work with you and provide the best buildings we can for your equipment, your products, and YOU!