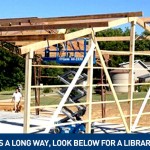 Perka Library
Welcome professional builders and Do-It-Yourself enthusiasts; this information library was designed with you in mind! Search for a topic or find it below.
| | |
| --- | --- |
| Article List | |
Perka Building Frames produces frames and trusses starting at 10 feet wide, for the DIY backyard project; or for the professional builder, Perka will provide frames in widths up to 200 feet clear and beyond to meet any project demand. The traditional industry standard of open web frames has been complemented with wood girts and purlins in an effective manner for many years and continues to be a Perka feature. Perka has taken that long-time standard and developed an additional hybrid solution of open web frames married with structural steel and steel girts and purlins, resulting in the perfect solution for high-end commercial and industrial projects.
Please use one of the following to contact us: call direct at 1-800-467-3752 (1-800-GO-PERKA), use our contact form or email us at perka@teamperka.com.